Michael a sport
Michael miloval vodu:
Pokoušel se hrát ping-pong:
Zvládal bowling:
Basketbal hrával především se svými s bratry a ve videoklipu ke své písni Jam i s Michaelem Jordanem:
Tady se Michael objevil jako divák na zápase Lakers. Slíbil Magicu Johnsonovi, který byl v roce 1981 na turné Triumph s The Jacksons, že se na něj přijde alespoň jednou podívat. Magic řekl Michaelovu bratru Jackiemu (velkému sportovnímu fandovi), že si myslí, že Michael nepřijde, ale Jackie řekl, že Michael určitě přijde. Samozřejmě, že přišel:
Jezdil na kole:
Jezdil na malé motorce:
Na větší motorce:
I na opravdu velké motorce:
Řádil na terénní tříkolce:
Nadchl se pro mini skateboard:
A skákadlo...:
Měl něco společného i s fotbalem:
Victory tour The Jacksons bylo přímo odpovědné za to, že Kraft koupil v roce 1988 stadium Foxboro, což byla transakce, díky které nakonec, v roce 1994, mohl koupit tým New England Patriots. Tak začala dynastie tohoto týmu, který vyhrál tři tituly na Super Bowle. (Zdroj: www.harlemenglish.com/2009/06/how-michael-jackson-helped-start-the-patriots-dynasty/#more-474) :
Býval hostem na londýnském fotbalovém stadionu, který je domovem pro Fulham Football Club. Jeho majitelem je jeden z Michaelových přátel, egyptský byznysman Mohamed Al Fayed (otec Dodiho, který v roce 1997 zemřel spolu s princeznou Dianou):
Na stejném stadionu nyní stojí i Michaelova socha.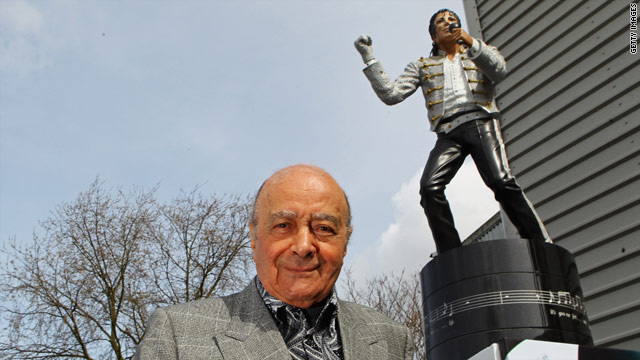 Michael se dostal i k šermu. Možná tedy jen kvůli focení, každopádně na něj tento sport musel velice zapůsobit, protože na své turné Dangerous zvolil jako kostým právě typickou šermířskou blůzu a občas předváděl výpady:
V 19ti letech se Michael spolu s některými svými rourozenci zúčastnil sportovní soutěže hudebních hvězd "Rock 'n´ Roll Sports Classic", která se vysílala 3. května 1978. Běžel sprint na 60 yardů a plaval.
Jacksonovi jako tým vyhráli 1. místo. Svou odměnu ve výši 20 000 dolarů předali univerzitě v Kalifornii.
(Tento taneček předvedl Michael před závodem :-)
Houpání na houpačce sice není sport, ale je to tělesná aktivita :-)
Lezení po stromech také posiluje svaly...:
Michael byl totiž opravdu silný:
"Je velmi silný... moje matka chtěla, abychom zvedli nějaký mohutný mramorový stůl. Zvedl jsem jeden konec a byl moc těžký. A Michael ho celý zvedl sám. Řekl jsem: ´Odkud máš ty svaly? Jsi tak hubený!´ Má silnou duši. Dá do toho nejdřív svojí mysl. Řekl jsem: ´Wow.´

Jermaine Jackson, Michaelův bratr
"Člověk, kterého nazýváme Michael Jackson, je velmi odlišný, když s ním mluvíte o samotě v pokoji. Je tak zábavný! Byl jsem překvapený, protože on vlastně pořád s někým bojuje. Jako kdyby měl černý pásek v karate. Právě jsem dotočil Aliho a umím dobře boxovat, ale s Michaelem bych se bál, že mě zraní! On se zatraceně rychle hýbe. Nikdo netančí tak jako on. To chce sílu!"

Will Smith
Michael a bojové umění:


"Michael Jackson má opravdu čerstvě černý pás v karate. Potvrdil mi to Uri Geller a Matt Filds (měl na starosti ochranku v Londýně a provozuje školu karate). Oba shodně potvrdili, že se Michael zajímá o bojové umění a dokonale ovládá karate. Minulý týden jsem poslala jednu kamarádku do Mattovy školy bojových umění. Včera mi napsala, že mluvila s nějakou ženou, která jí také potvrdila, že k nim Michael docházel na hodiny."

Reportérka

V roce 1985 založil Daikaku Chodoin, 68 (zakladatel a prezident Asociace sjednoceného světového karate) Světový černý kongres ve snaze sjednotit afričany a ve stejném roce vytvořil Společnost pro mezinárodní právo vesmíru, aby vypracovat právní rámec, který by dal všem národům stejná práva na prostor. Chodoinova touha uzdravit a zachránit svět se setkala s Michaelem Jacksonem: Od jejich prvního setkání v roce 1997, spolu král popu a král karate vycházeli královsky. V roce 1998 Chodoin představil Michaela jako čestného předsedu Asociace sjednoceného světového karate a daroval mu černý pás (godan, pátý stupeň):

Vodu Michael opravdu miloval:
Vodní aktivity: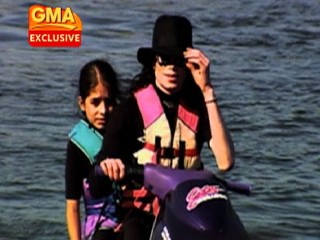 Lyžování a hory:
''Michael miloval dovádět ve sněhu, byla to jeho skrytá vášeň. Dokonce miloval lyžování. Párkrát se vydal na hory a zkoušel se učit lyžovat, ale měl pokaždé strach, že si něco zlomí a že by potom nemohl koncertovat. Občas jsme spolu jeli do Švýcarska a tam jsme dováděli ve sněhu.''
Jackie Jackson, Michaelův bratr
Jízdu na koni si Michael vždy užíval:
Na box evidentně není vhodně oblečen:
V sumu by rozhodně neuspěl:
Auta...:
Létání:
14. 11. 2005 se Michael zúčastnil (jako divák :-) závodu Dubai Desert Rally v hotelu Le Meridien Mina Seyahi v Dubai společně s blízkým přítelem, proslulým řidičem UAE rally Mohammadem Ben Sulayem a Saeedem Harebem, hlavním ředitelem dubaiského Mezinárodního mořského klubu. (International Marine Club):


Michael na stadioně:
V říjnu 2000 se Michael a několik členů jeho rodiny zúčastnilo charitativního projektu Paralympijských her v australské Sydney - mávali světu. Michael také spolupracoval na písni tohoto projektu s názvem "Spirit of Life".
Otázka: Bille, viděli jste někdy Michaela dělat nějaký rekreační sport, jako třeba plavání, bowling, lyžování atd.? Chodil vámi na nějaké sportovní události?
Bill Whitfield, Michaelův bodyguard: Jednou jsem ho viděl sledovat golf.
Komentáře: Michael a sport